IMPORTANT UPDATE ON PAYMENT OF SALARY - LABOUR OFFICE (SURAT)
As per the latest letter / order issued by Office of Labour Commissioner, Surat dt.: 07-05-2020, key highlighted point concerning payment of salary / wages for the month of March & April - 2020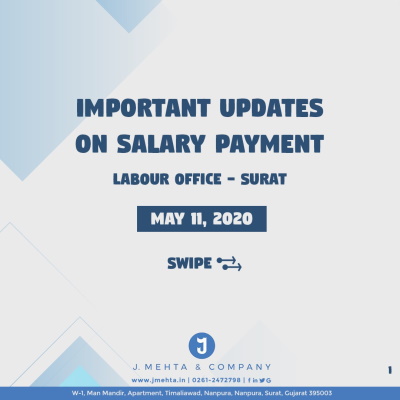 Dear Concern,
As per the latest letter / order issued by Office of Labour Commissioner, Surat dt.: 07-05-2020, key highlighted point concerning payment of salary / wages for the month of March & April - 2020:
👉🏻 Every employer (factory, establishment, shop or others) has to pay full salary / wages to all employees for the whole lockdown period duly on time without any reduction.
👉🏻 Office of Labour Commissioner, Surat and it's authorized inspectors are empowered to keep check and note violations / take appropriate steps.
👉🏻 Employers are directed to forward their compliance details in the prescribed format to email id: _dycom-lab-surat@gujarat.gov.in If you fail to provide details on above email, it would be presumed that you haven't paid any salary / wages and suitable actions would be initiated.
Legal Consequences of Violations:
👉🏻 Offense and Penalty u/s 51 to 58 of The Disaster Management Act, 2005
👉🏻 Criminal Offence u/a 188 of The Indian Penal Code, 1860
Referred Notifications / Orders:
👉🏻 Notification issued by State Home Ministry - Gujarat dt.: 23-03-2020
👉🏻 Notification & Directions issued by Hon. Collector & Hon. District Magisterate bearing no. MG / PLS / CORONA VIRUS / BHADUAT / V.SH 2185 / 2020 dt.: 22-04-2020
👉🏻 Point no. (iii) of Order of Ministry of Home Affairs bearing no. 40-3/2020-DM-1(A) dt.: 29-03-2020 singed by Hon. Home Secretary
- Jeet Mehta
(J. Mehta & Co.)
Labour Law Consultants & Advocates